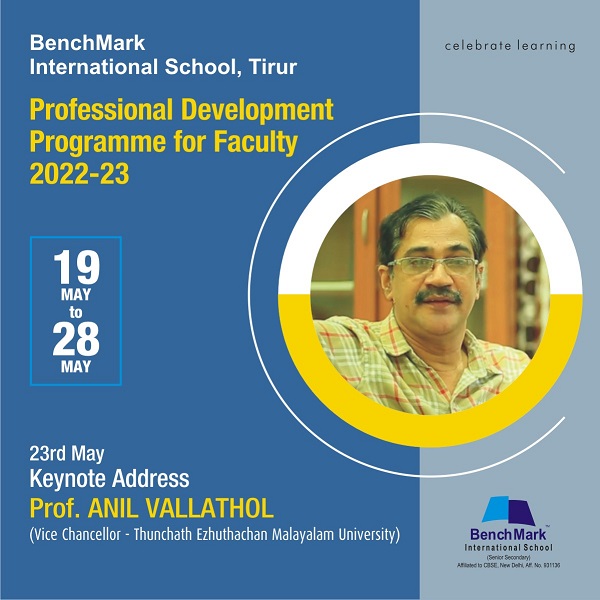 19
May - 2022
Professional Development Programme for Faculty 2022-23
The professional development programme 2022-23 for the faculty of BenchMark will be held at the campus from 19th May 2022 to 28th May 2022.
Prof. Anil Vallathol , Vice Chancellor, Thunchath Ezhuthachan Malayalam University will deliver the keynote address on 23rd May 2022.
The framework comprises:
Designing Annual Pedagogical Plan by Mr.Joji Paul , Principal , BenchMark International School, Tirur.
Declaration of RISE: Curriculum Enrichment Programme for Grade 8 to 10 by Mr.Syamlal E P, HOD (Dept. of Social Science).
Integrating Coding & Robotics into curriculum by Ms.Nayana Mahadev HOD (Dept. of Computer Science).
Innovations in schools by Dr. Babu P K, Principal , Al Shifa College of Arts & Science, Perinthalmanna.
English in professional life by Mr.Jijo James, Resource person, Macmillan Education India
Project Based Learning by Dr.Habeeb Rahman, Professor, SSM Polytechnic , Tirur.
School Management Software Training.